Roof Racks, Bike Carriers and Boxes




A230
Integrated locking system The tightening lever cannot be closed without also being locked. This means that the rack and accessory attachments are automatically locked to the vehicle.

(Handle for easy tensioning of the retaining mechanism.)
Channel for Accessories

The crossbar is composed of two separate accessory channels that allow accessories to be easily slipped in and locked in position.
A.R.S.
ARSTM Plus (Automatic Retention System) New patented micro-ratchet system with user-friendly release mechanism.

Composed of high tensile strength stainless steel.
Oversized stainless steel pivot pins.

All moving parts enclosed for security.
Lightweight 6061 T6 extruded aluminium

Softflex TM Pad & Foot

Hook
Sailboard Carrier A313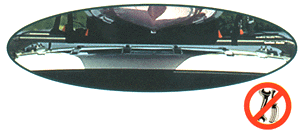 Easy to install, locks to MONDIAL rack without additional locks to buy.
Fully adjustable-fits surfboard or sailboard.
Soft, slip-resistant mounting blocks to protect finish of cargo.
Integrated mast / paddle holders included.

Easily slides on & off MONDIAL fit system.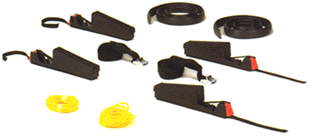 Echo Large, Ski & Snowboard A444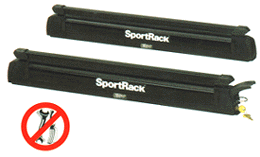 Carries up to 6 pairs of alpine or cross-country skis, or 4 snowboards, or other combinations.
Slides easily on & off MONDIAL rack.
Aerodynamic profile reduces drag and wind noise.
Maximum versatility and durability.
Completely lockable with corrosion resistant covers on all locks.
Dual opening access bars for easy loading and removal of equipment from both sides.

Offer easy access to skis or snowboards without the need to purchase additional locks.
Sport Rack Roof Box A25370C
509 litre (18 cu. Ft.) capacity.
Maximum load of 50 kg (110 lb).
Made in high molecular weight polyethylene – UV stabilized.
Passenger – side opening with quick release snap-lock mechanism.
Camlock with two keys for security.
2 – year guarantee.
Fits many types of bar systems.
OEM kit available or use kit A117, A125, A126 or A127.

Length 55" – Width 38" – Height 18".

Roof Racks page1, page 2