Tough Dog Nitrogen Gas shock absorbers have been designed with control & comfort in mind. These shocks work well to provide you with a balanced, controlled, sway free ride.

Although not externally adjustable, Tough Dog Nitrogen Gas charged shocks come equipped with multi stage Velocity Sensitive Valving. What this means is that Valving depends on many things, e.g. Vehicle speed, weight / load, road conditions etc. The shock will automatically adjust itself to the road conditions to deliver a softer or firmer ride as the road conditions dictate. So when you're around town and you want a softer ride, you've got it! And when you want your vehicle to perform offroad, you also have that! Priced competitively and excellent quality, these shocks are perfect for the light to medium 4wds with leaf springs suspension.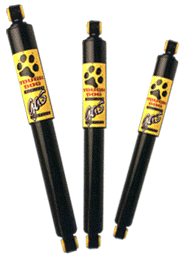 Extraordinary features :
Extra Large Internal Bore and piston with twin tube design.

Low Pressure Nitrogen Gas to eliminate fade for better performance and comfortable ride.

Double Chrome plated shaft.

High Temperature Resistant fluid.

Custom made for each 4WD.

Valve tuned to match OEM or Tough Dog springs rates.

OEM or Longer Length shocks to suit standard or raised 4WD for maximum articulation, comfort safety & durability.

2 Year / 40,000km Warranty (Refer Important Notice & Conditions on Warranty).