The main problem with the standard Jeep Wrangler is that it promises more than it delivers. It looks aggressive and off-road capable, but it's got the wrong axle ratio to perform as it could on-road, while suspension and ground clearance compromises limit its off-road ability. John Agostino, of tough Dog suspensions (ph (02) 9689 3166), can't change the gearing, but he's sure as hell improved the ground clearance.

The Tough Dog kit for the Wrangler consists of four new coil springs and matched gas-filled dampers. The net result is a 50mm lift in clearance underneath. That's as far as Ago's prepared to go with the Wrangler, because its rear propshaft is very short and he doesn't want to induce driveline problems through too much angularity in the shaft.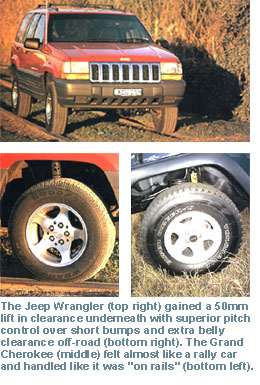 As it was, we noticed slight driveline vibration when we first started off, although there was no sign of it through the normal operating range. From the driver's seat, the Wrangler didn't feel any taller than standard and, if anything, had less body sway than the stock vehicle. Pitch control over short bumps was noticeably better than standard, as was the ride over corrugations.

Off-road, the extra height was appreciated, because the standard vehicle's belly clearance is no better than a Cherokee's, despite the Wrangler's more pugnacious appearance.

Western Sydney's Parramatta Chrysler Jeep must like the end result, because they've put a modified vehicle on as a demo. The Wrangler kit costs $1000 fitted.

John Agostino approached the grand Cherokee from different perspective, figuring that the standard set-up was a pretty good compromise for normal on-and off-road driving. The kit he worked up for the Grand Jeep has been biased towards flat handling on made surfaces, but with a useful 50mm lift for improved off-road clearance as well.

The extended coils were matched to substantial foam cell shockers, for a ride quality that was considerably firmer than boulevarde-stock. It felt almost like a rally car and handled like it was on rails. The Grand Cherokee kit is $1060 all up including fitting.

For those who want their Grand Cherokees to sit flatter through corner and be more responsive to steering and throttle inputs, the Tough Dog Suspension kit could well be the answer. The firmer rear springs should also resist townball loading better than the standard coils.